So, just now, at the Hello Project Winter Kangei Shinsen Matsuri 2011, the new members of the 9th generation of Morning Musume have been announced.
The winners of Morning Musume's 9th generation auditions are:
(scroll down when you're ready)
















SAYASHI RIHO:
SUZUKI KANON: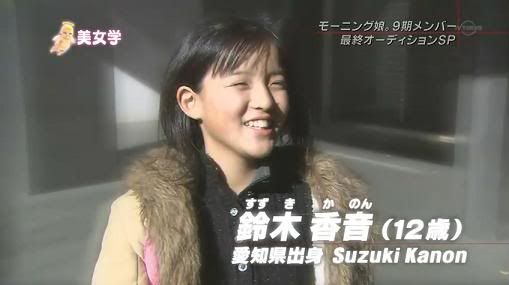 IKUTA ERINA: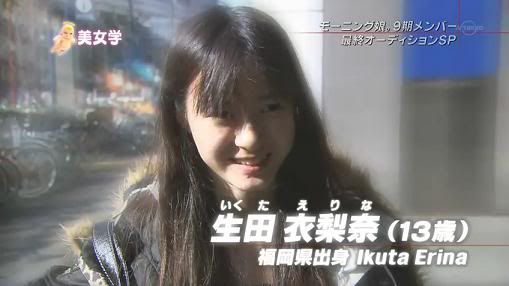 FUKUMURA MIZUKI:
So. Were back to 9 members again I see. These girls better do Momusu some good. They look like they have great potential to grow and make me love them. I was surprised that an Egg was thrown into the group though. I've never even heard of Fukumura Mizuki before. Let's see what she's got for us.
Overall, i'm happy with the results. I'm not being judgmental about the girls yet, because I can only wait and see what happens. I'm looking forward to it though!
So there you have it. Our NEW Morning Musume consists of:
Takahashi Ai & Niigaki Risa [5th Gen]
Michishige Sayumi & Tanaka Reina [6th Gen]
Mitsui Aika [8th Gen]
Sayashi Riho, Suzuki Kanon, Itsuka Erina, & Fukumura Mizuki [9th Gen]
There have been some rumors going around that have stirred up some controversy.
I wonder if they're true? So far i've heard:
- Kikkawa Yuu is going to be an H!P soloist.
- Jang Dayeon is joining MM as well
- The new members are replacement members in Tanpopo# and Shin Minimoni
- Tsugunaga Momoko will graduate from Berryz and HP in Summer 2011
- Sayumi Michishige will graduate from Momusu and HP in Summer 2011
- Mitsui Aika gets boo'ed for mentioning that Suzuki Kanon looks like her.
I'm really curious about these. Especially the last two. Things are changing way too fast in HP.