So a week or so ago I found some new H!P Winter 2011 pictures on Ebay for sale. They all started around a dollar, so I thought to myself, "hey, what a great deal!" It was then when I decided to bid on all the members that I wanted (even though I forgot some).
Well, this is what it eventually turned into:
After adding up the total, I noticed that I was going to be spending around $13 bucks for 8 L sized pictures. After I placed all the bids, I realized that I could buy the same pictures off of HSU for less.
Lucky for me, I completely forgot that I even placed bids on these items, which turned into this in about 20 minutes: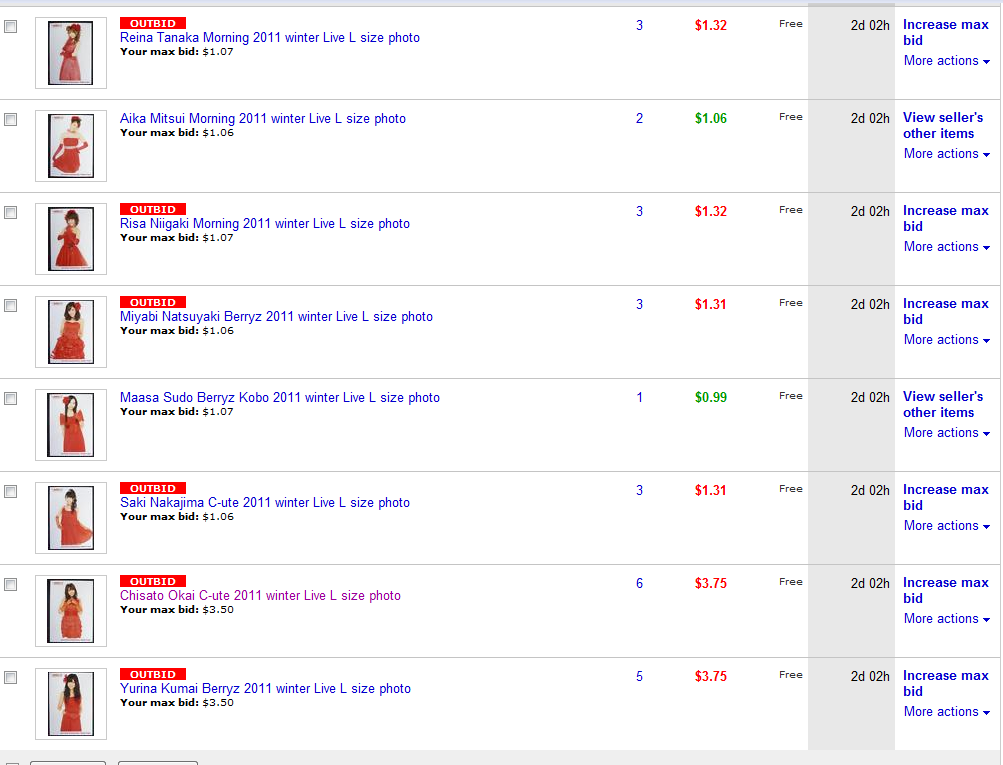 I was even considering bidding again on a few pictures, but then once again, completely forgot to. Oh well!
(in the meantime, i was also outbid on Aika)
I went to HSU (30 minutes ago) and decided to buy these photosets from their store. I was happy to find out that I could buy the Momusu (5), Berryz (7), and C-ute (5); 17 pictures for $20 total. So I did.
Oh yeah. After like almost 2 weeks, I got something in the mail from ebay:
(i have the real picture, just didn't feel like taking a shot and uploading it)
Lol yaaay, now I have an extra Maasa. GO MAASA.
I hope you enjoyed my little story. The End.